<< Back to Knitpro / Knitting needles / Interchangeable sets
KnitPro Karbonz interchangeable needles - deluxe set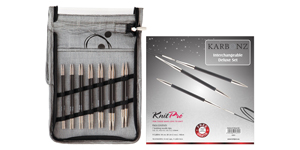 Choose a needle point size and cable length to suit your project
Knitpro's Karbonz wood needles are very light, look attractive and feel warm and silky. The metal points are sharp and gently tapered.
The carbon fibre is very strong, warm and light. The tips join to the cables smoothly and the cables don't have a memory.
This set contains tips 3mm, 3.5mm, 4mm, 4.5mm, 5mm, 5.5mm, 6mm, cables to make needle length 60cm, 80cm x 2, 100cm, cable connectors plus a black and clear case.
Buy KnitPro Karbonz interchangeable needle deluxe set at p2tog.com